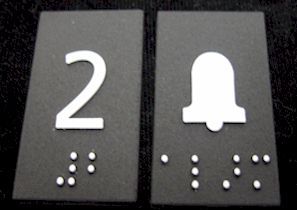 Why Braille?
It is easy to consider signage an exclusively visual medium of communication, but it is also critical to ensure that necessary information can be conveyed to the visually impaired.
Braille is a form of written language, comprised of a series of patterns of raised dots correlating to the alphabet, that are felt with the fingertips in order to give the visually impaired the ability to read. ID3 Logos is proud to render nameplates with Braille lettering for your workplace or your products in order to effectively communicate to a wider and more inclusive readership.
ADA Compliance
ID3 Logos offers Braille signage that is ADA compliant, meaning that it meets the standards set by the Americans with Disabilities Act. Per ADA.gov, "The ADA is one of America's most comprehensive pieces of civil rights legislation that prohibits discrimination and guarantees that people with disabilities have the same opportunities as everyone else to participate in the mainstream of American life–to enjoy employment opportunities, to purchase goods and services, and to participate in State and local government programs and services."
There are numerous ADA requirements for proper signage, and ID3 Logos will ensure that you meet them. For example, The ADA requires that only grade-2 Braille be used, that a minimum of 3/8" clearance must be left on all sides of Braille lettering, that all Braille should be lowercase (excepting proper nouns), and that standard cell and dot spacing and dimensions be used. We will make sure that every aspect of your Braille signage is up to code as well as aesthetically superb.
Most Common Uses
We create customized ADA Braille signage for hotels, hospitals, schools, office buildings, government agencies, and various businesses. We make nameplates with Braille lettering to signify room numbers, elevators, fire exits, safety codes, etc. Not all signage requires the addition of Braille lettering; for example, building addresses, directories, parking signs, and temporary signs typically do not require Braille. Signage for all permanent rooms that do not change function, including restrooms, do however require Braille. Keep in mind that even if the ADA does not require that you use Braille, it is still a good idea to do so. The addition of Braille can even be mutually beneficial on nameplates for advertised products and services.
Specifications
Our unique tooling and injection molding methods provide for the best and most cost effective Braille signage that can be designed to aesthetically match your overall architectural design. Signage can be made in your chosen colors and is available in zinc or injection molded plastic. Etched Zinc features a raised copy depth of .030" while injection molded does not have a copy depth restriction.
Contact ID3 Logos today and let us help you design ADA compliant signage that perfectly fits your design needs.